NEWS
Boost Your Butt: OK! Fitness Expert Nora Tobin On How To Take Your Toned Beach Bum Into Fall
Boost your butt with one key move and a great diet tip with Nora Tobin, Shape and OK! Magazine's nutrition and performance specialist, fitness consultant for Four Seasons and Belmond hotels and Wilhelmina model.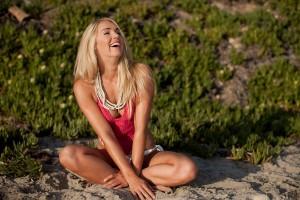 Bikini season may be winding down, but that doesn't mean it's time to stop paying attention to your body. Maintaining a toned backside will help you look great in any attire, whether it's a swimsuit or great new jeans for fall. Plus strong glutes help to improve posture and prevent knee and back pain. While many daily activities and high-intensity workouts engage the quadriceps, the posterior chain — your gluteal muscles and hamstrings —is often neglected, leading to tightness in the ligaments that surround and stabilize the knee. By targeting yourbutt with one essential exercise, you can reduce your risk of injury and build strength around your spine, which will support good posture when you sit or stand for long stretches of time. Start toning that tush!
Article continues below advertisement
Move Of The Week: Bridge
Step 1: Lie on your back with knees bent at 90 degrees, feet hip-width apart and hands at your sides.
Step 2: Raise your hips as high as possible, engaging glutes and core. Aim to form a straight line from your head to your knees. Hold the pose at the highest point for two to three seconds, then slowly lower back down to the floor.
Step 3: Perform 20 reps.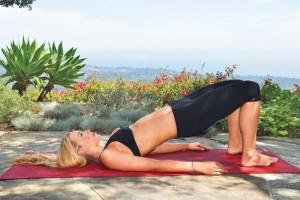 Stay Slim Secret
A healthy diet is a must if you want to shed those last few pounds — and keep them off heading into the chillier months. SlimFast can help, with delicious shakes and smoothies — packed with protein, fiber, vitamins andminerals — that help to control hunger for up to four hours. Use them as meal replacements, fast-and-easy snacks or to help you refuel post-workout. Available at Walmart and other retailers. For more info, visitSlimFast.com.