NEWS
Boy George Convicted on False Imprisonment Charges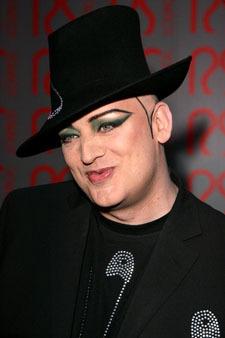 The verdict is in for '80s pop icon Boy George, who was found guilty earlier today in a London court on charges of falsely imprisoning a Norwegian male escort by handcuffing him to a wall.
The bad news for the former Culture Club singer, 47, came at the end of two weeks of trial stemming from an April 2007 incident. The alleged victim in the case, Audun Carlsen, claimed that Boy George (real name George O'Dowd) had handcuffed him to the wall of the singer's home and beaten him with a chain because he would not have intercourse with George.
Article continues below advertisement
During the trial, during which George did not testify, the pop star's lawyer contended that the injuries sustained by Carlsen were consistent with bondage gear the Norwegian had worn.
However, in the end the jury sided with Carlsen. According to reports, the setencing phase of Boy George's trial will resume in mid-January.