NEWS
Boyz II Men's Shawn Stockman Calls Justin Bieber "A Legitimate Artist"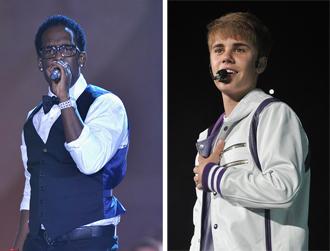 Shawn Stockman of Boyz II Men may be a judge on The Sing-Off now, but he also recently worked with Justin Bieber. And when it comes to the 17-year-old heartthrob's talent, Shawn says there is no competition!
"Justin is a real professional. He is really great and despite all of the hype behind him and the girls screaming and all of that other stuff, he really is a legitimate artist," Shawn told OK! exclusively of working with The Biebs. "He's not a flash in the pan artist at all."
Article continues below advertisement
And Shawn appreciated their collaboration together.
"I enjoyed working with him. I enjoyed talking to him and hanging out with him," he added. "He understands a lot because he is so young. I didn't really necessarily feel like I was talking to a young kid. I was talking to a seasoned professional and he carries himself that way.
"He is very mature, understands things, understands music, understands the music business. I wish him the best because he is one of the good ones. He is one of the guys that I personally root for because of the fact that I know how hard this kid works, I know how hard he worked before he even got the deal, and it's just nice that all this is happening to somebody that is so dedicated."
In the past, Shawn also worked with Mariah Carey. So, has he met Mariah and Nick Cannon's twins yet?
"Nope, haven't seen Mariah in a minute. It's been a while since we've seen her but we did see pictures of the kids," he shared with OK!. "We congratulate her and Nick for the babies. They look absolutely beautiful. We wish her the best being a mommy."
Reporting By Stephanie Buscema