NEWS
Brad & Angie's Big Easy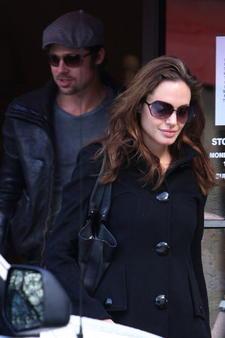 For a couple like Brad Pitt and Angelina Jolie, who have traveled together to countless exotic locales and who could afford to live and raise their growing family anywhere in the world they choose, a laid-back city like New Orleans might seem slightly out of place. But that's exactly the reason they love it so much.
"Angelina adores New Orleans," a source inside the Brangelina camp explains to OK!. "It's where she and her family feel safest. They feel like they're an all-American, regular family and that they're no different than any other family walking around the French Quarter with their coffee on a cold morning."
Article continues below advertisement
This feeling couldn't have been more evident than during the recent holidays, when the Jolie-Pitt clan gathered in the Big Easy to relax and spend time together. "It's a special place for Brad and Angie," reveals the insider. "They really feel at home and it brings them closer together, it seems to be the one city where they connect."
And Brad and Angelina aren't content with just taking shelter in their new home; these A-list philanthropists are giving back, especially Brad, whose Make It Right project aims to rebuild homes destroyed by Hurricane Katrina. "Angelina loves the idea that they have helped the community since Katrina," the source tells OK!. "She finds it incredibly sexy that Brad is so passionate about restoring the city, the community and being a part of the culture."
The proud parents love taking their four young children sightseeing around New Orleans. " They want them to see the breathtaking beauty of the city," the family friend explains to OK!. "Shiloh 'oohs' and 'ahhs' over everything. She would get so excited she'd just start clapping and giggling on the back of Angelina's bike."
For even more details on Brad and Angie's life in New Orleans, pick up the new issue of OK! — on newsstands now.