NEWS
Brad Calls Best Actor Win "An Honor"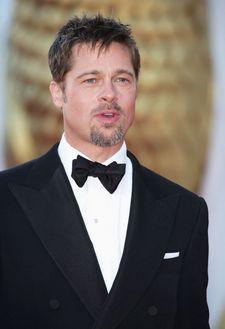 Can Brad Pitt get any better?
At 44, he's still one of Hollywood's sexiest leading men, pals around with the likes of George Clooney, is father to six kids and gets to wake up every morning next to Angelina Jolie.
But on Wednesday, it was a lighter side of Pitt that audiences saw at the Venice International Film Festival as he took the stage to retrieve his best actor trophy for last year's Assassination of Jesse James by the Coward Robert Ford.
Article continues below advertisement
"You can run, but you can't hide," Pitt joked as he accepted the award from the mistress of ceremonies. "It was an honor to receive this last year and it's an honor to receive it this year. Thank you very much."
Brad won the gold cup last year, but left before the awards ceremony, never picking up his trophy.
"I guess you forgot something here years ago," said the mistress of ceremonies told him. Holding up the gold cup to honor Pitt's performance in the film, she said, "Brad, this is yours."