NEWS
Brad & Matt to Blame for George's Male Stripper Fan?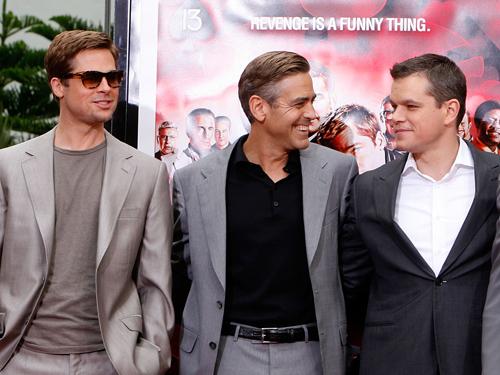 Are Brad Pitt and Matt Damon to blame for the man who stripped down in Italy to proclaim his love for George Clooney? Oh yeah, Matt admitted last night on Late Show With David Letterman.
Matt explains it thusly: Brad's fed up with Italian journalists asking when he'll marry Angelina Jolie, so he finally said he'd tie the knot when "George Clooney marries his boyfriend."
"So this Italian journalist comes in and goes, Matt, is it true what Brad say?" Matt relates in his best Italian. "And I have no idea what he is talking about. But you know, I go, 'Yeah, of course it's true.' And he says, 'Do you mean George Clooney have a boyfriend?' And now I'm trying to keep a straight face and I go, 'Yeah, of course he's got a boyfriend. And he wants to legally marry him. We've been on him about this for years...' "
Article continues below advertisement
Going back to Tuesday, Matt sees a man at a press conference with George. "This guy stands up and says, 'George!...I am a gay.' And this guy starts peeling his clothes off and he says, 'If you musta choose, choose me!' "
And the rest is history.
WATCH BELOW!