NEWS
Brad Pitt & Angelina Jolie Talk Football at the Golden Globes: "Our New Orleans Saints Lost"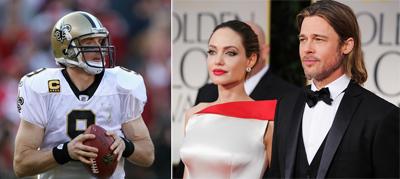 Who knew Angelina Jolie was a football fan!? The A-list actress and her beau of almost seven years, Brad Pitt, watched a few minutes of the New York Giants-Green Bay Packers playoff game while greeting reporters on the red carpet of the Golden Globe Awards last night.
And although Angie isn't into the hard-hitting action, she adores football players, especially the ones who love their moms!
OK! GALLERY: BRANGELINA & MORE OF THE CUTEST COUPLES AT THE GOLDEN GLOBE AWARDS!
Article continues below advertisement
"When I see someone who, like, cries or waves to his mom or kids, then that suddenly becomes my favorite player," Angie told Access Hollywood's Billy Bush while watching some of Sunday's game. "I'm a girl, you know."
As for Brad, the only players he likes are the ones who play for the New Orleans Saints — his home team! "My Saints lost yesterday, so I'm a little upset," Brad told Billy of the Saturday night matchup between New Orleans and the San Francisco 49ers. "It was a great game, though," Angelina added. "They fought so well."