NEWS
Brad Pitt Gives 'Basterds' Top Priority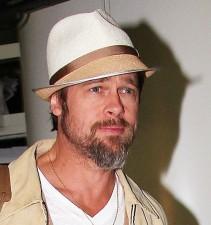 Talk about a man with a plan: Brad Pitt plans on giving a Quentin Tarantino's Inglourious Basterds prequel his top priority for his next film and it might already be underway, E! News reports.
"Everybody would drop whatever they're doing to go back to work with Quentin," Brad's Basterds costar Eli Roth said. "All the time, Brad says, 'Prequel, prequel!' All the 'basterds' would jump on it in a second."
Article continues below advertisement
"We have three scenes that we shot in Boston that take place before the war, and Quentin says if he does the prequel, he's going to use them," Eli explained. "They're not going to be DVD extras."
"There's a great scene with me and Cloris Leachman," Eli added. "I go and get her to sign the bat. It's me and the little old Jewish ladies of the neighborhood."
Now it's up for Quentin to decide.
"He has most of it written, so now it's just a matter of figuring the whole thing out," Eli said. "Quentin's standards are so high that he won't do it unless he feels like he can do it better than the first one."
We know he can and hope he does!