NEWS
Brad Pitt on Jennifer Aniston Fallout: "I Have a Knack for Stepping Into Sh**"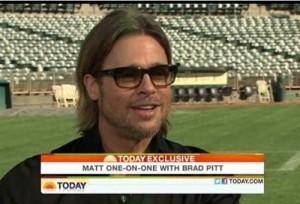 Brad Pitt is continuing to address his Parade magazine interview, which led to some serious fallout after a quote he made about his marriage to Jennifer Aniston was "misconstrued." While promoting his new flick Moneyball on the Today show, Brad also addressed the comment he made with co-host Matt Lauer.
The quote that started it all?
"I spent the '90s trying to hide out ... It became very clear to me that I was intent on trying to find a movie about an interesting life, but I wasn't living an interesting life myself. I think that my marriage to actress Jennifer Aniston had something to do with it," Brad told Parade. "Trying to pretend the marriage was something that it wasn't."
Article continues below advertisement
But the actor explained what his true intentions were on Today, saying its a "shame" that he can't say something nice about current partner Angelina Jolie without Jen being brought into the equation.
"She's good people," Brad told Matt of Jen. "She, you know, there, there should be a statute of limitations on this."
When Matt offered to read the Parade quote, Brad stopped him in his tracks.
"No, I, you know, please don't read it ... Because I don't read these things, by choice, I don't. I don't wanna be encumbered by any of that," he said. "I know my intentions, and I know what I believe, and I know things get misconstrued. I live outside of, of that, and it's much healthier."
But Brad shared he learned a lesson from the fallout.
"Don't talk. I don't wanna live on guard and I should be more on guard, I guess ... it's always been a part of the territory. I've got a knack for stepping into s---. And it's okay. It's all right."
Watch Brad's interview at MSNBC.