NEWS
Brad Pitt to Jennifer Aniston: I've Been Living a Lie!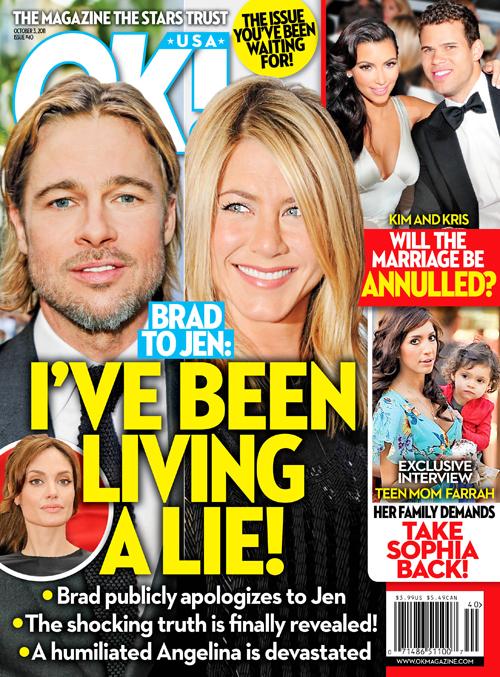 Jen and Brad: Fights, love and lies: Brad Pitt finally tells the truth about his relationships with Jennifer Aniston and Angelina Jolie.
Kim and Kris: There are already rumors about cracks in the foundation of Kim Kardashian and Kris Humphries' new marriage — are they headed for an annulment?
Lara Marsden: Brad Pitt's assistant: Her racy past revealed. A pal says Lara Marsden flaunts her sexual power over men. Now she's working on Brad!
George Clooney: Get a look inside George Clooney's new romance with Stacy Keibler, and find out what George's ex, Elisabetta Canalis, has to say.
Kirstie Alley: She unveils a hot new bod at fashion week. How she lost 100 pounds and got her svelte figure back.
2011 Emmy coverage: OK!'s favorite fashions and moments from TV's big night. Plus: Emmy winner and Modern Family's Julie Bowen gives OK! an exclusive look at how she got gorgeous for the red carpet!
Countdown: Celebrities need to stay slim — but we wonder if stars like Ali Lohan and Kate Bosworth are really eating enough.
Fashion: Sarah Jessica Parker's style rules! SJP is back on the scene and looking fab — so we swiped some tips from the über fashionista.
Article continues below advertisement