NEWS
Brad Pitt Opens Up About... Basically Everything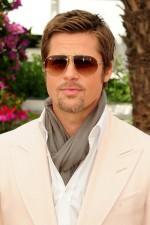 Unless you're asking touchy questions about exes, Brad Pitt doesn't seem to mind opening up about practically anything in a new Parade interview -- including exactly why he and "soul mate" Angelina Jolie won't be getting hitched, his kids and family life, and even "smoking grass" in the early years of his career.
On wanting what's best for his children: "Would it bother me if a child of mine turns out to be gay? No, not one bit. Listen, I want my kids to live the lives they want to live. I want them to be fulfilled. I hope I teach my kids to be who they really are."
Article continues below advertisement
The right to love: "Man, I resent people telling others how to live! It drives me mental! Just the other night, I heard this TV reverend say that Angie and I were setting a bad example because we were living out of wedlock, and people should not be duped by us! It made me laugh. What damn right does anyone have to tell someone else how to live if they're not hurting anyone? How many times do you think real love comes to someone in a lifetime? If you're lucky, maybe two or three."
Why he won't marry Angelina Jolie: "I have love in my life, a soul mate—absolutely. When someone asked me why Angie and I don't get married, I replied, 'Maybe we'll get married when it's legal for everyone else.' I stand by that, although I took a lot of flak for saying it—hate mail from religious groups. I believe everyone should have the same rights. They say gay marriage ruins families and hurts kids. Well, I've had the privilege of seeing my gay friends being parents and watching their kids grow up in a loving environment."
Article continues below advertisement
On becoming a family man: "My life has been about big changes. It's always been that way. When I go down a path, I take it to the end. Then I take another one. I took the path of not having kids—now it's time for family. Children are a dominant value in my life now, and they weren't before. They were always something I thought I'd get around to having when the time was right. It wasn't what I was really seeking. In a way, I think I had to go and exhaust me before I could be good at being a parent. This family is full of life! There are laughs, aggravations, irritations, but at the end of the day, it's fun. When life is really good, it's messy."
His early days in Hollywood: "I liked to smoke a bit of grass at the time, and I became very sheltered. Then I got bored. I was turning into a damn doughnut, really. So I moved as far away from that as I could. I was done. In Missouri, where I come from, we don't talk about what we do—we just do it. If we talk about it, it's seen as bragging."
Building his dream house: "This was my first architectural experience where I tried doing something myself. It is something I wanted to do for decades. This is like play to me. It's the only thing that can take me away from any problems I may have. After a few years of work, it came out so nice. Now I've got so many damn kids, it's the only place we could all fit in. We're double-bunking rooms as it is."
Article continues below advertisement
About the secret stone grotto behind the waterfall in his pool: "It's a great place for sex."
Raising an international family: "I travel a lot. I don't feel restless, I just like to travel. I like to see it all. We're trying to spend more time in the South of France, because our kids have a more normal life there. I don't believe there is any way around our kids being international. So we have projects in each of their respective countries, and we put a big emphasis on their learning their native languages."
His foreign fantasy: "I wish there had been an emphasis on learning a foreign language where I grew up. It frustrates the hell out of me. I've studied French. I don't speak it. I'm working on it. It's real slow going. Oh, how I suffer! Those synapses never formed! They're dry-docked for good!"