NEWS
Brad Pitt Pulls Hilarious Prank on Jonah Hill: Turned His Golf Cart Into a "Wham!" Mobile!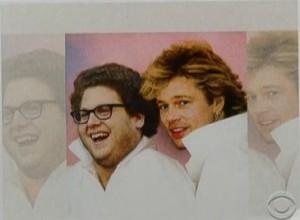 Article continues below advertisement
"I got my own golf cart just for me and he thought it would be funny — because he knew that I was so proud of it and that no one else could drive it — that he would mess with it!" Jonah explained to David Letterman.
Brad turned Jonah's golf cart into a "Wham!" mobile.
"There is a picture he superimposed on the front... it's him and myself as the members of Wham!" Jonah shared. "He has it rigged so that every time I turn on my Wham! mobile full volume it blasts 'Wake Me Up Before You Go-Go.' Full volume on a loop that can never be turned off."