NEWS
Brad Pitt Talks 'Tree of Life': Calls Film a "Leap of Faith" & Says He Found Religion "Stifling"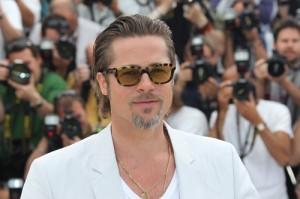 Brad Pitt and his The Tree of Life co-stars and producers came out in Cannes to support their new film, without their director Terrence Malick. But Brad defended his absence and took on many of the questions reporters had about the film himself.
OK! VIDEO: WATCH BRAD PITT IN NEW TREE OF LIFE CLIP
"I don't know why people who make things in our business are expected to sell them. I don't think that computes with Malick," Brad explained to reporters about Terrence not attending the unveiling of his film in Cannes on Monday (via the Los Angeles Times). "It's an odd thing for an artist to sculpt something and then try to sell it."
Article continues below advertisement
And Brad thinks it's a good thing not to hear the director talk about their film so it doesn't ruin the viewers' experience.
"You know when you have a favorite band and you hear them talk about lyrics and you're immediately disappointed, and you can't listen to that song anymore?" he explained.
But Brad was happy to talk about his experience working on The Tree of Life.
The actor plays a stern father in the film and called the process a "leap of faith. But that's the point. You know you're in good hands so it's not really that scary."
OK! NEWS: NEW POSTER REVEALED FOR TERRENCE MALICK'S TREE OF LIFE STARRING BRAD PITT
The Tree of Life deals with themes of connecting the story of the universe with one family's struggles of raising children, L.A. Times explains.
"I was surprised by the structure," Brad said, adding he found it "quite ingenious, this marriage of the micro with the macro."
"I hope it speaks to all cultures about childhood and growing up and deciding who you're going to be as you go from a child to an adult."
And Brad even tackled questions about religion — sort of.
"I got my issues, man. You don't want to get me me started," he told on reportedly. While Brad said he understands some people find comfort in it, "I, myself, found it stifling."