NEWS
Brad Pitt Tried to Pretend Marriage to Jennifer Aniston Was "Something That It Wasn't"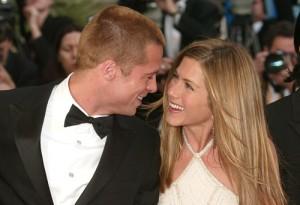 Brad Pitt's media rounds for his new movie Moneyball have apparently given him the opportunity again to compare his past relationship with Jennifer Aniston and his current relationship with Angelina Jolie — and he's not holding back!
OK! NEWS: BRAD PITT ON MR. & MRS. SMITH — GREAT COLLABORATION TURNED INTO GREATER COLLABORATION
"I spent the '90s trying to hide out, trying to duck the full celebrity cacophony. I started to get sick of myself sitting on a couch, holding a joint, hiding out. It started feeling pathetic," Brad explains in the new issue of Parade magazine. "It became very clear to me that I was intent on trying to find a movie about an interesting life, but I wasn't living an interesting life myself. I think that my marriage to actress Jennifer Aniston had something to do with it. Trying to pretend the marriage was something that it wasn't."
Article continues below advertisement
But now, Brad says he is satisfied.
"I put much more emphasis on being a satisfied man. I'm satisfied with making true choices and finding the woman I love, Angie, and building a family that I love so much," Brad says. "A family is a risky venture, because the greater the love, the greater the loss.… That's the trade-off. But I'll take it all."
OK! COVER STORY: ANGELINA JOLIE & JENNIFER ANISTON — RACE TO THE ALTAR!
And he's not done praising Angelina — he has too many good things to say!
"One of the greatest, smartest things I ever did was give my kids Angie as their mom," Brad boldly claims. "She is such a great mom. Oh, man, I'm so happy to have her."
He's also happy to be a parent to their children.
"I was surprised at how automatic it is, how much of it is instinctual," the actor says of parenting. "And now I have a great confidence and trust in those instincts. I mean, one sound at night and you're awake and up because they may need you. Or when they start to have a tantrum, you know to divert them from spinning out by helping them focus on something. It just goes on and on. I tell them, 'You can make a mess, but you've got to clean it up.' "
For more of Brad's interview pick up the new issue of Parade on Sunday!