NEWS
Brad Pitt's Mystery Woman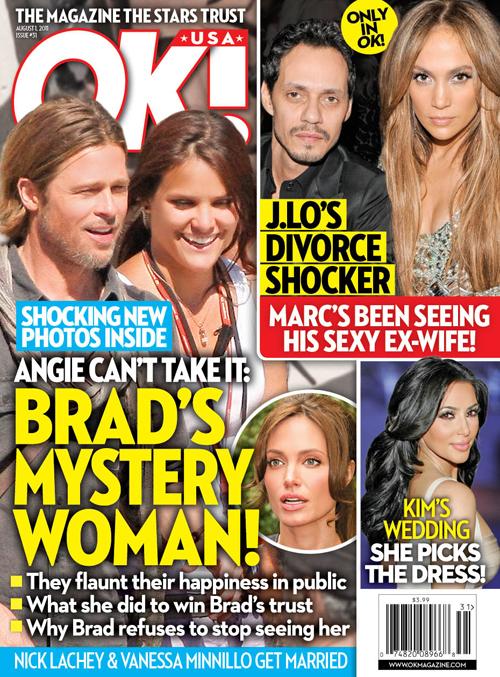 Brad Pitt's Mystery Woman: Angelina Jolie can't take it anymore! Brad's on-set bond with a young brunette sends Angelina into a jealous fury — and it's driving him away.
Jennifer Lopez and Marc Anthony: What really went wrong. The breakup of the seemingly perfect Hollywood couple has left fans reeling. OK! reveals the truth behind the happy facade.
Kim Kardashian: With the calendar ticking down to the reality star's much-anticipated wedding, she's under pressure to find her ultimate dress — fast!
Jennifer Aniston: The Horrible Bosses star is talking engagement. Does her finger bling mean new beau Justin Theroux is the real thing?
Emily Maynard: The former Bachelor star knows she has to let go of Brad Womack if she wants to return as The Bachelorette.
Teen Mom: Maci Bookout and Ryan Edwards: reunited! Maci's suddenly single, and she and Bentley's father, Ryan., are getting close again!
Renee Zellweger: Her taste in men keeps changing. What is she looking for? She's fallen for a lot of famous men, from Jim Carrey to John Stamos, and all of them are so different!
Body & Soul: Stars Obsessed with each other's bodies. As if being superstar-hot wasn't enough, these A-listers still have body envy.
Article continues below advertisement