NEWS
Brad Pitt's Normal Life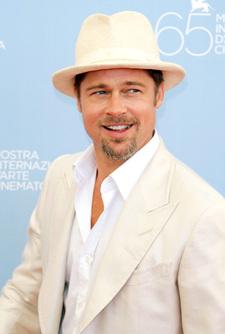 The words "normal" and "Brad Pitt" don't usually seem to go together, considering the gorgeous, talented actor, loving father and generous humanitarian seems to be anything but. However, the star of The Curious Case of Benjamin Button says his family is attempting just that, a sense of normalcy, in New Orleans.
"It's a place that we can actually walk on the streets," he tells Larry King. It's the community here. It's the people here. It's very kind. But they also, for some reason, do not feel like they have ownership in some way or something. They're really respectful."
Article continues below advertisement
CLICK HERE for OK!'s Ultimate Angelina Jolie gallery for pics of the couple!
And while paparazzi and fans are always trying to get a piece of Brad's family with Angelina Jolie, he says their neighbors are just happy to see them out and about.
"Nothing more than a wave and 'Glad you're here,' and let us go on our way," he reveals. "We've made some good friends here. It's just a really nice (place). I don't know how to describe it better than that. Just a place for us to be."
Making friends might have something to do with Brad's dedication to his Make it Right campaign, which is working to build homes in the city's 9th Ward, an area devastated by Hurricane Katrina.
"The goal is to create a template for intelligent building, he says of the housing, The goal is to rebuild all of New Orleans, all the people who want to come back. This holiday, there are families that have already moved in and will be celebrating their Christmases here, so we're very excited."
Speaking of the holidays, Brad had said in the past that he and Angie wanted to try a multiceremonial celebration, to acknowledge their childrens' array of home countries; but it seems the kids are still focused on one thing on Christmas Day.
"We're still working on it. You know, we tried a little something last year, but the kids are so young, it just didn't mean much, really," he explains. "But we're getting there. You know, as they get older, they'll start to understand more. Right now, it's still presents."