NEWS
Brad Pitt's Still Hurting Jennifer Aniston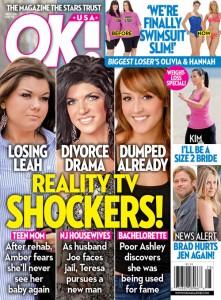 Brad Pitt flaunts his romance with Angelina Jolie, but is he doing it to make Jennifer Aniston jealous?
Elegant in black, down to her Louboutins, Jennifer glowed on June 23, as she took the stage to tape Inside the Actors Studio in NYC. As an audience member tells OK!, "She wore a big smile." And why shouldn't she? Beaming through his beard in the front row was Jen's new love, Justin Theroux — the two are so into each other that they're flashing PDA from coast to coast, rare for normally reserved Jen, 42. Despite the recent death of her beloved Welsh corgi mix, Norman, life seems good for the rom-com queen — that is, if ex-husband Brad Pitt doesn't spoil it.
Article continues below advertisement
After their 2005 divorce, Jen said Brad lacked a "sensitivity chip"; now he's living up to that, showing off his relationship with Angelina Jolie — he's even taking her to the same spots where he shared romantic evenings with Jen. "It's callous, but Brad doesn't see it that way," an insider tells OK!. "He doesn't think things through."
On June 20 in Malta, where Brad is filming World War Z, he and Angie enjoyed an alfresco seafood dinner at the de Mondion, the same place he took Jen while shooting Troy in 2003.
"Brad and Angelina were eating off of each other's plates!" reveals a source at the scene. "They were very touchy feely and seemed head over heels. They'd spent the day together, giggling by the pool like young honeymooners. When servers approached, Brad growled, 'Don't interrupt!' They were getting it on!"
Article continues below advertisement
In recent interviews, Brad and Angie have been unusually open about their passion and kids — even hinting at the taboo topic of marriage. For serial dater Jen, it can't be fun to see her ex nearing the altar.Publicly, Jen's not revealing any hurt feelings. Asked about her love life on Good Morning America on June 27, she called herself "extremely happy."
Still, during her Actors Studio spot (airing July 11), when host James Lipton asked for her "favorite word," an emotional Jen mentioned the six-letter name she had tattooed on her foot last week, the guy who never let her down: "Norman."
FOR MORE ON JEN'S LOVE LIFE PICK UP THIS WEEK'S ISSUE OF OK! ON SALE NOW!