NEWS
Brad, Tina & Ben's Mega Smiles for 'Megamind'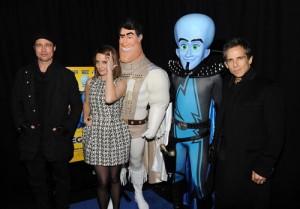 Besides just having the voices of the characters in Megamind, including megastars Brad Pitt, Tina Fey and Ben Stiller, last night's New York premiere at AMC Lincoln Square Theater in NYC also had some of the life-sized characters on the red carpet as well! Brad, Tina and Ben looked happy to finally hang out together on the red carpet.
OK! GALLERY: BRAD PITT & ANGELINA JOLIE TAKE KIDS FOR SOME SUNDAY SIGHTSEEING
Article continues below advertisement
Animated movies are unique in that the cast usually doesn't work together during the filming process, and instead have individual sessions to capture their voices.
OK! GALLERY: BRAD SEALS HIS SUPPORT FOR ANGIE WITH A KISS & A CAMERA
Now that Tina has met Brad, maybe she can convince him to do a cameo on 30 Rock! Reach for the stars, Liz Lemon! Reach for the handsome, blue-eyed stars!