NEWS
Brad's an Inglorious Bastard!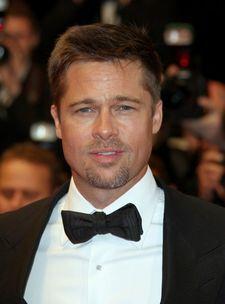 After years of stops, starts, leaked scripts, delays and distractions, it looks like director Quentin Tarantino is finally going to begin work on his WWII epic, Inglorious Bastards, as it is being reported that superstar Brad Pitt has officially signed on to be in the film.
According to the Hollywood Reporter, Brad will play Lt. Aldo Raine, who heads up a squad of eight Jewish-American soldiers going toe-to-toe with the Nazis in German-occupied France.
Article continues below advertisement
This will mark the first time Brad has worked with the maverick director of such modern classics as Pulp Fiction and Reservoir Dogs. And, says the film's producer, it's a match made in heaven. "They're going to push each other and really help make something special," explains Lawrence Bender, Tarantino's partner on the film.
Also in talks to join the film are Hot Fuzz star Simon Pegg, David Krumholtz of CBS hit Numb3rs, Office star BJ Novak and horror director Eli Roth.