NEWS
Brandi Glanville Hooked Up With Gerard Butler! Had "A Week of Fun" Together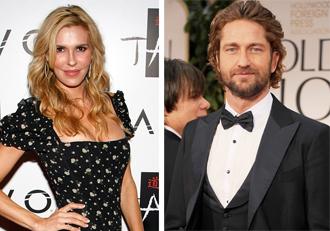 Article continues below advertisement
1.) "If you could have ten minutes alone in a room with LeAnn Rimes and suffer no repercussions, what would you do or say to her?"
"Plead the Fifth," Brandi said.
2.) "When was the last time you watched porn?"
"I don't watch porn," she said. "A year ago. Maybe. Randomly."
3.) "Who is the most famous person, besides Eddie Cibrian, that you have hooked up with?"
"I can't Plead the Fifth," Brandi said with a laugh. "Uh, Gerard Butler."
OK! NEWS: REAL HOUSEWIVES OF BEVERLY HILLS STAR KIM RICHARDS LEAVES REHAB
Andy couldn't control his excitment and had to keep asking Brandi more questions about her Hollywood hook up.
"Was that more than once? Was it a relationship?"
"No, no, no. It wasn't a one nighter, it was like a little week of fun."
Brandi explained the hook-up happened in the last year over the summer. So, on a scale from 1 to 10 how fun was it?
"Eleven," Brandi said with a big smile.