NEWS
Brandy Says Ray J & Whitney Not a Couple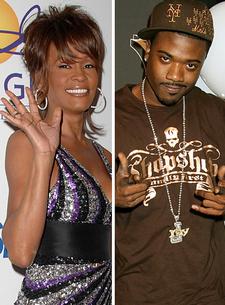 R&B singer Brandy is setting the record straight regarding rumors that her brother, Ray J, and Whitney Houston are an item.
In the winter issue of Rap-Up Magazine, Brandy reveals exactly what is going on between the unlikely couple.
"Well, every time I ask Ray J about Whitney he always says that's just his friend," Brandy says. "He's not dating her. And I don't think that he would lie to me. I said, 'Well, Ray, that's not the way it looks. People think that you and Whitney are in a relationship.'
Article continues below advertisement
He was like, 'Well, that's what they're gonna think, but I'm telling you the truth and I'm not dating Whitney. Whitney and I are just really good friends and that's it.' When I ask Whitney, she says the same thing, unless they are just pulling the wool over my eyes. But I think he's telling the truth."
Whitney and Ray J appeared together at a boxing match back in April, which set tongues wagging that the two were romantically involved. Houston was infamously married to Bobby Brown and the two have a daughter, Bobby Christina. Ray J is known for that little video he made with then-girlfriend, Kim Kardashian,--which basically made her famous.