NEWS
Bravo's 'Newlyweds' Tina and Tarz Open Up About Marriage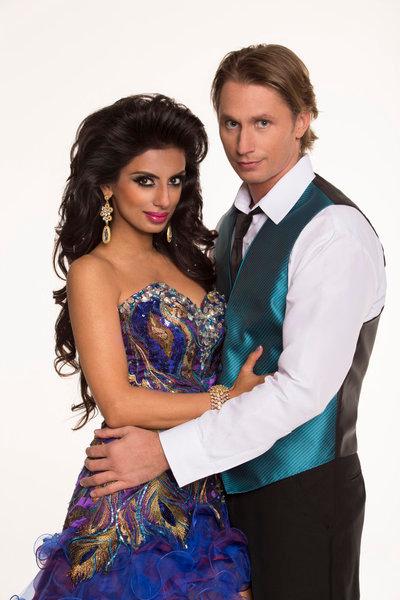 In a way Bravo's reality series Newlyweds: The First Year is like the longest wedding video ever, but have no fear, you won't be sitting through inappropriate toasts and relatives awkwardly going through the motions of The Chicken Dance all season. This series is juicy. Following four couples from the blessed event all the way through day 365 of marriage, Newlyweds documents the ups and downs of each duo's relationship as they attempt to navigate their new life together. I chatted with stars Tina Sugandh, an Indian international pop star, and her hubby Tarz Ludwigsen, president and co-founder of a start-up web company called Pandoodle, about their experience filming the show and the couple didn't hold back!
Article continues below advertisement
OK! News: A Fan Gave Cody Simpson What?
OK!: What made you want to document your first year of marriage on a reality show?
Tarzu Ludwigsen: I think that in general we're both pretty comfortable with cameras and I think that we are very much interested in being as open as we can with our marriage and by that I don't mean an open marriage. I think we're both very comfortable with who we are and what we've got. We have all of the same types of issues that arise in any marriage. I think we were both looking forward to sharing how we deal with that.
Tina Sugandh: You're going to see a lot of tragedy, honestly. We've had to deal with everything from my mom passing away a few years ago to trying find time to make a baby and that struggle. It's been kind of a rough year and we hope people can relate and we can make people feel like they're not alone, I guess.
Watch: Mariah Carey and Nick Cannon Shut Down Disneyland To Renew Wedding Vows
OK!: What are some moments that were caught on camera that you're not looking forward to seeing on TV?
Article continues below advertisement
TS: Do you have an hour? (laughs)
TK: I would say mine is that you're going to hear the phrase erectile dysfunction thrown around a lot.
TS: Tarz was literally working 19 – 20 hour days, seven days a week, for weeks. So I don't care if you're the biggest porn star in the world, you're not going to be able to get it up if you work that hard. So poor Tarz is going to take a bit of flack for that. I kind of lost my mind now and then this year and I'm wondering how that's going to translate on camera. We were just ourselves 100 percent. We had an amazing crew that allowed us to just feel like they weren't even there because they were so incredible. We felt free to be ourselves. You'll see everything from the sweet moments to the insanity.
Watch: What Do Rihanna and Anne Hathaway Have In Common?
OK!: I know your lives don't intersect on the show, but have you met any of the other couples since filming ended and did you find that your experiences were similar?
TL: Actually we haven't met them in person. We've seen a lot of the trailers and the commercials. I would say, yes, and actually from when we first started talking to Bravo about what the show was going to be like, it's really about four couples who have very diverse backgrounds but really experience the same kind of situations in the first year of marriage. We can definitely relate. Or I can. I won't speak for Tina. I can definitely relate to the scenes that I've seen so far.
Article continues below advertisement
TS: Yeah, me too. I think a lot of newlyweds have the same issues. Your finances are coming together, how do you deal with that? After a year sex starts to be like, hmmm, we're a little busy today. A lot of couples go through the same issues whether you're whatever race or whatever sexuality. It doesn't really matter.
Catch Tina and Tarz on Newlyweds: The First Year, premiering on Bravo on Monday, May 6 at 10/9c.
Which reality TV couple is your favorite? Tell me in the comments below or tweet @OKMagazine.