NEWS
'Braxton Family Values'' 100th Episode, 'Party Legends' And More To Watch On TV Tonight!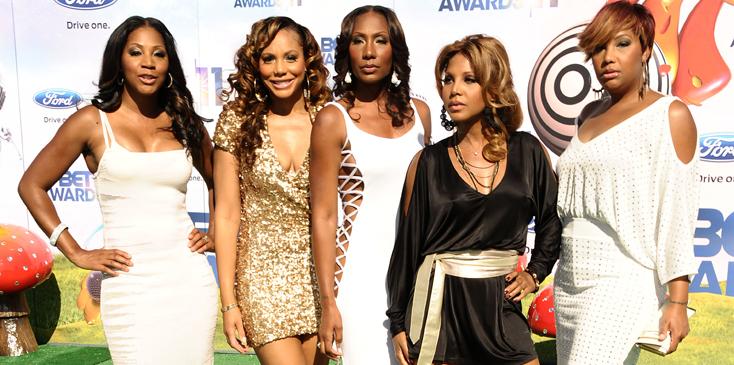 Braxton Family Values — 9 p.m. EST on WE tv
The show celebrates its 100th episode with Tamar meeting with producers who want to put the Braxtons on Broadway. But her sisters' reaction to the big surprise shocks her. Trina seeks a hypnotist to conquer her fear of birds but her sisters interrupt her session. Towanda rents a condo in LA to be closer to her acting school pursuits, but Trina worries her new place may mean a big move.
Article continues below advertisement
Beethoven's 5th — 7 p.m. EST on Discovery Family Channel
When Sara takes Beethoven to spend summer vacation with wacky Uncle Freddie in an old mining town, the mischievous canine digs up the missing clue to a legendary hidden fortune. Now everybody wants to be the dog's best friend as his discovery unleashes a frenzy of treasure hunting among the community's cast of kooky characters. But the adventure proves more than they bargained for when they encounter the ghosts that protect the town's deepest secret.
Dead Set on Life — 10 p.m. EST on Viceland
Matty goes to Saskatchewan for the Great Prairie Feast. Then he heads to a cabin for a wild weekend of duck hunting and blowing shit up.
MORE ON:
braxton family values
Party Legends — 10:30 p.m. EST on Viceland
Bobcat Goldthwait, Sean Patton, Estelle, Rory Scovel, Kreayshawn, and Howard Kremer have their wildest party stories animated.
— 11 p.m. EST on Viceland
Action Bronson is joined by spiritual wind dancer Alorah Inanna as they dive deep into the concept that extraterrestrials had an integral part in the development of the human race.