NEWS
Breakfasting with Reba McEntire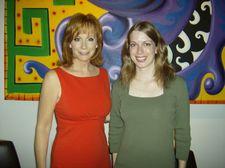 Reba McEntire wakes up to a breakfast of fruit, granola, muffins and bagels when Billboard toasts her 30 years in the music industry. The 52-year-old singer sits down at CORE in NYC for the Top 20 Women In Music Breakfast.
Reba, who has a son Shelby, 17, with her hubby and manager Narvel Blackstock, recently celebrated her album Reba Duets hitting the top of the charts. Even though her TV show Reba has wrapped after six seasons, music isn't her only outlet. She's also got a clothing line, bath line and shoe line. "I have the attention span of a two-year-old," she laughs.
Article continues below advertisement
Reba says she's proud to be a working mom. "I don't think quantity time is as special as quality time with your family," she says. "If I had to say thing I regretted in my life, it's not spending enough time with my family. Then I look back and I think that the quality times were so special. I'm a big fan of that. I cherish the times we're all together. My son Shelby's like 'did you take pictures of anybody but me?' Ever since I was six months pregnant up to now. It's those special times you spend with your family. Make time for family."
MORE ON:
Red Carpet Confidential
What's one tip for getting ahead?
"As a woman, you don't complain, you work twice as hard and you do your job. You try to outsmart them, you try to outwork them and get there first. You help out, you volunteer, you're at the front of the line. That's what I learned from working on the cattle range, and it helped me."