NEWS
'Breaking Dawn' Birth Scene & 3-D Still Being Debated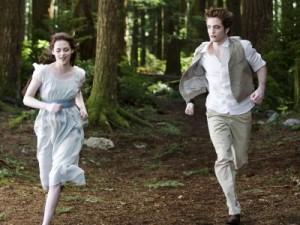 Here's a new argument for you to consider, Twi-hards, on the great birth scene/3-D Breaking Dawn debate straight from the producer.
OK! GALLERY: ROBERT PATTINSON MAKES A QUICK EXIT
Wyck Godfrey recently spoke with FEARnet on how he feels about Breaking Dawn being made in 3-D and how they should handle shooting the birth scene.
See if you agree!
The PG-13 rating instead of R will dictate how the the birthing scene is filmed, but Godfrey joked how the scene could have gone with an R-rating.
Article continues below advertisement
"Yeah! Dead Ringers. We should go full on!" he joked on making it like a horror film. "My wife's an OB-GYN so we should bring her on set to make sure that if Edward is going to do an oral Cesarean, he really needs to make the proper incision with his teeth."
OK! NEWS: BREAKING DAWN SEX SCENES TO BE "SAUCIER" THAN THE BOOK
On a serious note, Godfrey says they'll try to show what happens... without showing too much of what happens.
"I think the one thing that we've done that we've really done in all the films is keep them very subjective and keep them from Bella's point of view. So the conversations we've had with Bill Condon, the director, is that we'll try to do something similar here; you're with Bella's perspective and her point of view of what's taking place in the rush around her, as she's in intense pain," he explained. "Not so focused, objectively, on her body and his body and that. So I think it'll be something like that, in terms of trying to make the audience experience and feel the confusion, almost, of what's happening to her."
Article continues below advertisement
OK! NEWS: SPOILER ALERT! BREAKING DAWN SCREENWRITER TALKS GORE AND MORE
But that's still up for debate, and so is whether Breaking Dawn will be filmed in 3-D.
"We have considered it, and everything's being discussed, but I know that part of a way to differentiate the two movies would be to have one be in 2-D, and when she becomes a vampire we move into 3-D. But we haven't really gotten far enough to decide what we're going to do," Godfrey said. "I'm of two minds of it, frankly, and I think everyone is; I don't want to chase the format if it's not organic and appropriate. If we think it is, we will."