NEWS
'Breaking Dawn' Birth Scene is "Intense"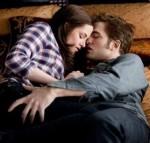 Much debate has surrounded the filming of the infamous Breaking Dawn birth scene and now the movie's stars have confirmed that screenwriter Melissa Rosenberg's treatment of the controversial moment has done the book justice.
"I think people are really, really excited and surprised about how tastefully it can be done," Jackson Rathbone, aka Jasper Hale told E! News at Spike TV's Scream Awards.
Article continues below advertisement
His co-star Nikki Reed agreed. "It's intense," she said. "It's really intense."
She added: "I play a pivotal role in this, because this is what Rosalie has always wanted, you know what I mean?" she continued. "So, I'm working really hard. I'm with my acting coach every day, three hours a day... I really care about this and I want it to be good."
The cast won't be shooting the final Breaking Dawn movies until the spring but Jackson and Nikki say that wrapping the final film won't be easy.
"I've had an amazing time working with the cast, and the fans have been incredible and so supportive of all us," Jackson said. "It's going to be sad."
OK! NEWS: NIKKI REED ON K-STEW: "SHE DOES HER OWN THING"
"It's not ending for a long time," said Nikki. "But I'm going to be sad and here's why: I'm working with really great people, people that I love. I've worked with some really talented directors. I've traveled all over the world with the series."