NEWS
'Breaking Dawn' Cast Talks Sex Scene at L.A. Premiere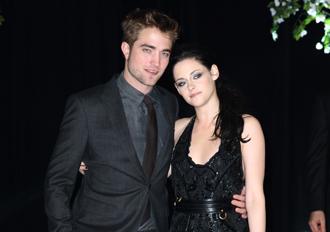 As Twi-hards count the minutes until The Twilight Saga: Breaking Dawn — Part 1 is released to theaters Nov. 18, the cast enjoyed their second-to-last Twilight Saga L.A. premiere on Monday at the Nokia Theatre.
Before the screening, the actors dished about their own feelings watching the much-anticipated honeymoon sex scene.
When Celebuzz asked Robert Pattinson what it was like shooting the steamy romp with girlfriend Kristen Stewart, the beautiful Brit replied: "It was incredible. It was one of the most fun parts about shooting this whole series."
Article continues below advertisement
Of course, for some cast members, the idea of watching their friends and co-workers get it on onscreen wasn't so tantalizing.
Elizabeth Reaser, who plays Edward's adopted mother, Esme, was shocked at how much she ended up enjoying the scene.
OK! NEWS: ROBERT PATTINSON PRAISES KRISTEN STEWART'S BRITISH ACCENT IN SNOW WHITE: "SHE'S REALLY GOOD AT IT"
She told Celebuzz, "I didn't think I would be into it because I know them. And obvioulsy I wasn't looking forward to seeing them having sex, and yet I kind of was when I actually saw the movie."
Article continues below advertisement
When Celebuzz told the young actor that some people were split about watching Rob and Kristen getting intimate, Taylor seemed shocked.
"Who doesn't like it? Really?" he asked the reporter, baffled.
And as to the whole brother-sister aspect, Taylor isn't letting that get in his way of enjoying what promises to be one of the most talked-about scenes in the entire series. "It's amazing," Taylor reassured. "I think the fans will be very happy about it."