NEWS
'Breaking Dawn' Films Won't Be Shot in 3-D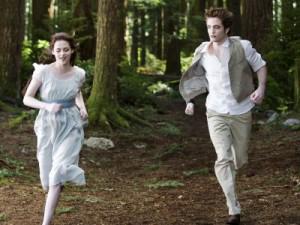 Article continues below advertisement
So the studio still has time to debate whether or not they want to add some post-production 3-D effects.
OK! NEWS: BREAKING DAWN BIRTH SCENE UPDATE — "AS INTENSE AS IT IS IN THE BOOK"
MTV News previously spoke to Kristen Stewart and Taylor Lautner on whether they'd like to see Breaking Dawn in 3-D and they had mixed reactions.
"I'm probably speaking out of line or whatever, but I think it would be awesome," Kristen said. "Nobody knows what it's like to look through the eyes of a vampire. What if Bella opens her eyes to this extraordinary world? It could be cool."
OK! NEWS: ROB & KRISTEN CAUGHT KISSING OFF CAMERA!
But Taylor wasn't so sure 3-D would be best for Twilight.
"Usually, 3-D is best when it takes you into another world," Taylor explained. "I could see it going both ways. As long as we have the storyline down and as long as we bring what was written on the pages in the book to life, then we'll be fine no matter what we do."
Whether 3-D or not 3-D, we know we're going to love Breaking Dawn either way. Especially after the really long wait!