NEWS
'Breaking Dawn' Won't be a Musical, Says Director Bill Condon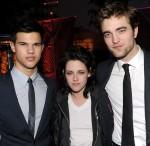 Bill Condon may be famous as the director who worked with Beyoncé and Jennifer Hudson in Dreamgirls, but he reassures fans that there won't be any singing or dancing in Breaking Dawn.
"There won't be any musical numbers," Bill announced in a post on Facebook, of his plans for the fourth installment in the Twilight Saga.
OK! NEWS: CULLENS SHOW "TRUE VAMPIRE-NESS" IN ECLIPSE
"I'm a huge admirer of the already-iconic Kristen Stewart, Robert Pattinson, and Taylor Lautner, and wanted to be the one to work with them as they face the challenges of bringing your beloved characters to the end of their journeys. Really, what could be more fun than that?"
Article continues below advertisement
Like previous directors Chris Weitz and David Slade, the director introduced himself to Twilight fans with an online letter, reassuring them that he's "bringing myself up to speed" on the beloved vampire series.
OK! NEWS: TWILIGHT SAGA: ECLIPSE LADIES LAND VANITY FAIR SPREAD
"I've read BREAKING DAWN twice, rewatched Catherine Hardwicke's and Chris's movies 2-3 times each, have all four CDs playing in my car, and have Catherine's notebook, Mark Cotta Vaz's companion books, and even Volume 1 of the graphic novel here on my desk," he wrote. "A corner of my office is starting to look like Hot Topic."
Aside from the glitzy musical drama that earned Jennifer Hudson an Oscar, Bill has a horror-filled resume with experience directing movies such as Candyman: Farewell To The Flesh and he added that he's "been yearning for a return to a story with Gothic overtones."
OK! NEWS: ROBERT PATTINSON IS RETURNING TO ELLEN
"Like many of you, I've always been slightly obsessed with vampires, dating back to the prime-time series DARK SHADOWS, which I followed avidly as a kid," he said, adding, however, that it took a special project to get him to return to the horror world.
Article continues below advertisement
"Rooted in a beautiful, real landscape with a great sense of place, Bella, Edward, Jacob, and the rest of the Forks/La Push menagerie, experience emotions that are primal, and universal: desire, despair, jealousy," he wrote.
OK! NEWS: FILMING FOR BREAKING DAWN TO BEGIN IN OCTOBER
"And it all comes to fruition in BREAKING DAWN. This is a final chapter in the best sense; not just wide in scope and scale, but emotionally charged and intense throughout."
Bill finishes up by asking for questions in the comments section, sparking more than 2,000 responses. However, he did not comment on long-standing rumors that the action-packed Breaking Dawn will be released as two films.