NEWS
Breaking News: Kellan Lutz Has Lots of Muscles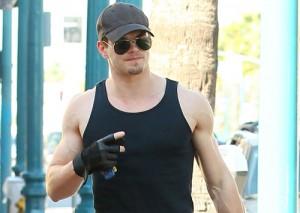 Remember how Twilight hunk Kellan Lutz has like, lots of bulging muscles and is fantastically ripped overall? Yeah, that's still true. Kell showed off his well-crafted pipes yesterday while on a trip the gym in Hollywood. While we're a fan of working out, we can't say the same for the burgeoning facial hair Kellan's been sporting.
OK! GALLERY: A BUFF KELLAN LUTZ BOXES IN L.A.
Every time we see Kellan out and about, it's like he's just reminding everyone that yes, he has big muscles. Which is fine! But maybe seeing him not in a tank top would be fun, too.
Article continues below advertisement