NEWS
Brendan Fraser Takes 'Journey To The Center of The Earth'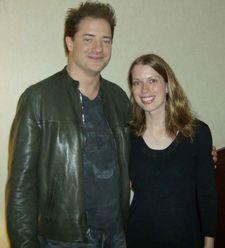 Brendan Fraser strides into the room at NYC's The Regency Hotel wearing a black leather jacket and a smirk.
The intensely-animated actor plays the uncle in the 3D Jules Verne adventure flick Journey To The Center of The Earth, which is in theaters tomorrow.
"I got the screenplay, and I see it's going to be shot in 3D, and my eyes went baluga!" he says.
According to Oscar-winning director Eric Brevig, Brendan was originally sought out to play a deadbeat dad. He made them alter the role to uncle.
Article continues below advertisement
In reality, the 39-year-old leading man separated from wife of nine years Afton Smith in December. He is dad to Griffin, 5, Holden, 3, and Leland, 2.
Have the kids seen it?
"They're too small," he says. "It's all about Spongebob."
A reporter mentions The Wiggles.
"Don't … even … mention … Wiggles," Brendan starts. "Nothing that starts with W. Nothing that starts with ooh. Ah. Mmmm. Hmmm. Aghhhhhh."
Moments before, costar Josh Hutcherson, who plays the nephew, is approached for autographs on the street, thanks to his role in Little Manhattan … four years ago. "It's insane," he says.
Hanging out with Josh certainly has its perks. His dog, Diesel, appears in the end credits of his film Firehouse Dogs.
How does Josh stay grounded?
"I live in Kentucky. That helps a lot. I take out the trash, pick up my dog's crap … that will bring you down to earth. You're picking up fecal matter. That really shows you where you stand."
Up next is Icelandic actress Anita Briem, who says it took her 25 auditions before she nailed the role of the Icelandic mountain guide.
"I think I broke Cameron Diaz's record for how many times she auditioned for The Mask," the 26-year-old beauty says. "They were like 'you are really from Iceland?' They didn't think there was such a thing. They thought my natural accent was too exotic. I toned it down and blended it."
Journey To The Center Of The Earth is in theaters tomorrow. It's a must-see! The special effects are incredible.