NEWS
Bret Michaels Did "2,000 Sit-Ups" For Naked Magazine Shoot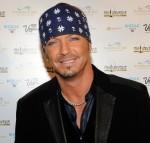 He's had a year of terrifying health scares, but Bret Michaels is back in the public eye, and celebrating his good luck by stripping off for the cover of Billboard magazine.
The rocker had no compunctions about going naked except for a couple of things: "I said, 'Listen, I have two requests — good lighting and a warm room. That's all I'm asking for,' " Bret tells E! Online.
Article continues below advertisement
"If I'm walking out with it all f****g hanging out there for the world to see then, well, I need good lighting and a warm room."
How did he prepare to have his abs take center stage? "I didn't eat for a day and I did about 2,000 sit-ups," he says.
OK! NEWS: BRET MICHAELS BACK ON THE ROAD: "I FOUGHT TOO HARD TO LIVE"
After recovering from an emergency appendectomy, a brain hemorrhage and a stroke, the Rock of Love star is going back under the knife in January, to repair a hole in his heart.
"I'm going in there thinking very positively that it's going to be great and I'm going to feel a whole lot better," he says, before adding, "I'd be lying to say that somewhere in my subconscious there's not a little bit of gulling.
OK! VIDEO: BRET MICHAELS & MILEY CYRUS SING DUET
"When they're going through your body to operate on your heart, it's going to hit you somewhere that they're toying with the ticker. There's definitely a little fear in there somewhere."
Meanwhile, his new reality show Bret Michaels: Life As I Know It premieres Oct. 18. But will it feature his marriage to the mother of his two daughters, Kristi Gibson?
OK! NEWS: BRET MICHAELS IS ALL SMILES AFTER CELEBRITY APPRENTICE WIN
"If it naturally happens, I promise you I will, but if it doesn't we'll at least make out in the back of a minivan or something," he laughs. "We'll at least give you some action."