NEWS
Bret Michaels' Doctor Issues Statement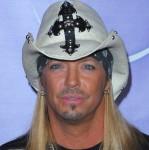 After entering the hospital suffering from a brain hemorrhage last week, Bret Michaels' reps confirm that he is still in critical condition, being treated at the Barrow Neurological Institute in Phoenix, AZ.
"There is no doubt that Mr. Michaels' condition is serious. We are treating the subarachnoid hemorrhage, which caused his severe cranial pain," top neurosurgeon at the medical center, Dr. Zabramski explains of Bret in a statement.
Article continues below advertisement
While Bret is in very good hands at St. Joseph's Hospital and Medical Center, his doctor explains that they have faced many obstacles on the rocker's road to recovery.
BRET MICHAEL'S DAD SAYS SON IS "SPEAKING SLOWLY" & "MOVING ARMS AND HANDS"
"Mr. Michaels will continue to undergo testing considering we have hit a few roadblocks including hyponatremia, severe cranial and back pain suffered from blood drainage, an emergency appendectomy performed a week earlier and a lifelong history of Type 1 Diabetes," the Chief of Cerebrovascular Surgery and Director of Clinical Neurosurgical Research adds.
Despite a few speed bumps along the way, Dr. Zabramski reveals that Bret is fighting harder than ever to recover.
"Bret's sheer will to live and fully recover is undeniable. He has an unbelievable fight in him and told me what kept him alive at the moment of the hemorrhage was that he 'did not want his family to wake up and see him lying unconscious in the middle of the floor.'"
And, the neurosurgeon, who has been practicing at the Barrow Institute since 1986, believes that Bret's will is what kept him alive.
"It was a combination of Bret's fight to stay conscious during the hemorrhage and get to the emergency room, and the immediate medical attention provided by our staff at Barrow that enabled us to stabilize his condition."
A press conference will be held on Tuesday at 12 PM at the medical center, also home to the Muhammad Ali Parkinson Center, to further discuss Bret's condition.