NEWS
Bret Michaels the Gentleman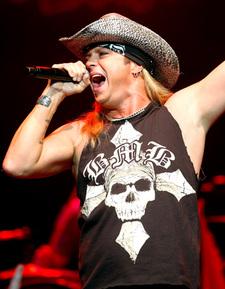 Everyone knows Bret Michaels is a quintessential rocker, wooing adoring female fans on his Rock of Love Bus on VH1. But a sensitive gentleman? Do tell! Bret opened up to Elle about the women who flock to his bus.
"There are definitely some girls who come on the show to party, and there are a few I'm not going to take home to Grandma," he admits. "But I try to never use the words skanky or slutty. I don't call any of them out like that."
Article continues below advertisement
He adds that there are some who are there for fun and then just want to leave, something he's okay with as well.
"It's not a horrible thing. We don't have to own each other's souls to have a night of fun," he explains. "I happen to be thankful for the gifts they give me."
So is there anything he regrets in all his touring years and all those women?
"I've never done anything the two of us didn't agree to tango on. Coming from a blue-collar Pennsylvania background and having two daughters and two sisters, it's just not my thing," he reveals. "There may have been a few nights I've gotten more hammered than usual and not followed all the guidelines of this day and age, but never a situation where I regretted something I'd done."
Sounds like his mothers and sister taught him well!