NEWS
Brian Austin Green's Career Is "Terminated"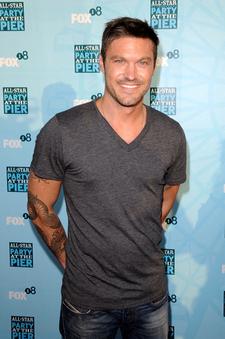 Brian Austin Green would rather focus on getting his Terminator: The Sarah Connor Chronicles character written into big screen part than focus on his past in that famous zip code.
"It was a great 10 years," he tells AOL's Inside/TV of his days on Beverly Hills: 90210, "but I kind of feel like unless there's a really cool reason for it, or if they've written something really clever in an interesting way of bringing the character back... I really don't want to just walk out and just be David Silver in the Peach Pit."
Article continues below advertisement
These days, Brian is focus on his new Terminator gig, which wasn't supposed to be a permanent role.
The fans liked the character. And the writers liked the character; they realized that they could use him a lot more than they had originally thought," he reveals.
As for whether he'd like to be in one of the new Terminator movies that's sure to follow after Salvation is released, Brian's ready to make that leap from the small screen to the big.
"I'd be lying if I said no. I'd love it. I'd love to do what we're doing right now on a grander scale. But at the same time, you know, this is a dream job," he explains. "It's a dream television show. I don't know if I could actually look for something cooler, or find anything cooler than this right now."
In the meantime, Brian's got a fiancée, Megan Fox, who's no stranger to the silver screen. So will he convince his real life lady love to guest star on Terminator? Probably not.
"I think that's always a weird line that people cross, and it doesn't necessarily work out the best," he admits. "I'm sure we'll work together in some way or another ... I'd love it, I dunno. I don't think she would come and do our show. I think she's a little too busy with films right now ... But it would be really cool."