NEWS
Bridget Moynahan Won't Bash Ex Tom Brady... Just Kim Kardashian?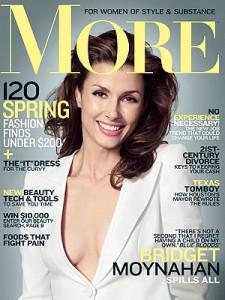 Even though Bridget Moynahan gave birth to her son with Tom Brady after they had already split, she has never said a bad word about him or Gisele Bündchen to the media. And she still won't. But if you ask her about Kim Kardashian or Snooki....
OK! NEWS: GISELE BUNDCHEN & TOM BRADY GET BACK TO BUSINESS IN BOSTON
We've been seeing much more of Bridget lately and have to say she's been looking great and the actress tells More magazine she's doing great too!
Article continues below advertisement
"My son has two loving parents in an extended family, whether it's cousins or stepmothers or boyfriends," she tells the magazine (via E! News). "My son is surrounded by love."
Bridget discovered was pregnant with her now three-year-old son John Edward (nicknamed "Jake") after she and Tom split.
"It was a complete surprise," she explained. "I don't think any girl grows up dreaming of being a single mom."
But Tom did join Bridget for the birth of their son.
"He was not in the room. He was there on that day and came in afterward," she said. "He certainly wasn't holding my hand while I was pushing."
After the birth, Bridget said she relied on her parents and friends for help while "hyperventilating" with anxiety saying, "Every time my dad mentioned he had to go home to Massachusetts, I'd start crying."
Article continues below advertisement
OK! GALLERY: TOM BRADY BRINGS SON JOHN EDWARD TO BOSTON PLAYGROUND
Regardless, Bridget says she won't being saying anything bad about Tom or his new wife.
"I never made a comment about Gisele or Tom publicly," she said. "I have a relationship with these people on a daily basis. I'm raising a child, and it's public. The media creates these dramas, and that's not what's happening in my life."
"I keep thinking about poor Angelina Jolie and Jennifer Aniston and Brad Pitt, braided in together," she added. "It's possible they haven't run into each other in years. I don't think we're dragged around the media together."
OK! GALLERY: TOM & GISELE HEAT UP THE NIGHT IN MIAMI
And while she's talking about celebs and the media, Bridget speaks out against the celebs who put themselves in the media.
"They're putting forward material that you're never going to live down," she said. "Really poor behavior is going on, but now it's considered OK. There's a lack of self-respect that I don't understand, and I find it kind of sad."
Article continues below advertisement
But Briget doesn't begrudge women like Kim Kardashian a living.
"Kim Kardashian has made an incredible career out of whatever she did, and the same with Snooki. They are icons of this generation," she admitted. "That kind of fame—do you get satisfaction out of it long-term? Is it worth it? I don't know."
OK! GALLERY: GISELE RELAXES WITH THE LITTLEST OF THE BRADY BUNCH
And instead of seeking out satisfaction by bashing Tom, Bridget is happily dating director Joseph "McG" McGinty Nichol.
"He's witty, he's smart, he's incredibly funny, he's got great taste, and he comes from a great family," she said. "He's the salt of the earth but also very successful in this crazy business that we're in."
"He and Jack have a great relationship."