NEWS
Bristol Palin on 'DWTS': "My Mom's Excited for Me"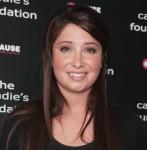 Dancing With the Stars announced its cast for the 11th season on Monday night and OK! was there to chat with the new celebrities who will be hitting the dance floor beginning Sept. 20 on ABC.
OK! NEWS: DANCING WITH THE STARS SEASON 11 CAST REVEALED!
Bristol Palin, Audrina Patridge, Jennifer Grey, Florence Henderson, Brandy and Margaret Cho are the women participating, while Jersey Shore's Mike "The Situation" Sorrentino, David Hasselhoff, Kurt Warner, Rick Fox, Michael Bolton and Kyle Massey will be dancing for the men.
Article continues below advertisement
After the new cast announcement at Jimmy Kimmel Studios in Hollywood, Sarah Palin's daughter Bristol, 19, told OK!, "I decided to do the show to get out of Alaska for a few weeks, do something fun and positive and have a good time. My mom's excited for me. She knows this is real family entertainment."
Bristol, who shot to fame when she had a baby out of wedlock after her mother had run for vice president, said she'll have no difficulty raising her son, Tripp, by ex-fiancé, Levi Johnston. "I work a regular 8 to 5 job at home so this will give me more time with Tripp."
"I don't want to talk about Levi," said the politician's daughter, who reconciled with her boyfriend recently, only to split up with him again. "I'm here to talk about doing something fun and positive."
OK! NEWS REPORT: BRISTOL PALIN JOINS DANCING WITH THE STARS CAST
Meanwhile, former The Hills star Audrina confided to OK!, "I've always been fascinated with ballroom dancing. It's very glamorous and sexy and looks like it's fun. When they asked me if I wanted to do it, I didn't hesitate."
Article continues below advertisement
Don't put Baby in the corner! Former Dirty Dancing actress Jennifer is now 50 and said backstage after the cast announcement, "I thought it would be fun and I wanted to set an example for my 8-year-old daughter, just an example of walking through fear, what happens if you just do something you're frightened of." Jennifer denies she has the edge after appearing in one of the classic dance movies of all time, saying she has unspecified physical "issues" that will make the show a big challenge.
"I've always been afraid to do Dancing With the Stars," Brandy told OK!. But now the singer hopes people will learn "I'm a hard worker and I never give up and I keep trying no matter how hard it is."
OK! NEWS REPORT: MARGARET CHO & JENNIFER GREY ARE DANCING WITH THE STARS BOUND
Comedian Margaret said she has some experience: "I am a belly dancer and I was burlesque dancing, stripping, for awhile. But that kind of dance isn't really for television and ballroom is a very intricate kind of dance I'm totally unfamiliar with." Margaret laughed to OK! about possible body changes she'll get from training: "I know it's going to happen for a second and then the show will be over and I'll go back to where I was before. It's not going to last!"
Article continues below advertisement
Rick told OK! attending a taping of DWTS last season convinced him to sign on: "Being there, taking in the environment live shifted everything for me. I thought, let's put the fear aside. I just wanted to be a part of it."
David said, "I've turned DWTS down before because I know what it takes to do a show that involves dancing; I've done The Producers. This to me is a challenge and it came at the right time. My daughters said, 'Dad, c'mon. Show us what you can do.' Whether I win or not is not important to me — it's whether I can go out there and give it 110 percent." When asked if he hopes to get back his Baywatch body, David smiled, "I'm not worried about the Baywatch body. I'm worried about the Baywatch mobility. I'm going to do most of the show in slow motion."
OK! NEWS REPORT: MICHAEL BOLTON & RICK FOX ADDED TO DWTS LINEUP
And he'll have a football legend competing against him. Former quarterback Kurt told OK!, "You only live once. You don't get opportunities to do things like this very often. What the heck. I'm looking for a new audience. I'm used to the football arena. This is something different — Hollywood, entertainment, a different kind of culture. I look forward to that," the father of seven said.
Kyle of That's So Raven and Cory in the House said, "I've never had any dance experience. I figure what better way than to learn than from the absolute best, and the people on this show are the best. I'm going to try to win this thing."
The celebrities' dance partners will be revealed on Sept. 1. Meanwhile, host Tom Bergeron praised the new cast: "I think it's an eclectic group. I don't have a sense of anybody coming in with an advantage." And his co-host Brooke Burke told OK! of the casting, "It's all over the place and unpredictable."