NEWS
Bristol Palin "Happy" For Levi Johnston and New Girlfriend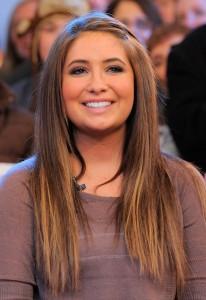 Bristol Palin has been far too busy to date as she just finished a long stint on Dancing with the Stars and has been taking good care of her son Tripp. But, the young mother reveals that she is actually happy for the father of her child, Levi Johnston, in his new relationship, according to new reports.
"I have to be happy for Levi's new relationship because it sounds like his new girlfriend is influencing him to want to actually spend time with Tripp," Bristol admitted to E! Online in a recent interview.
Article continues below advertisement
Since 20-year-old Levi started to date alleged girlfriend Sunny Oglesby, his attitude towards fatherhood has changed.
OK! NEWS: 'DANCING WITH THE STARS' WINNER PERFORM ON 'GOOD MORNING AMERICA'
"I sincerely appreciate her influence because Levi hasn't asked to see Tripp in over five months, so I'm happy for this new development!" Bristol gushed.
A source at E! Online claims that Sunny, a 19-year-old daycare instructor, is very excited to meet Tripp in the near future.