NEWS
Bristol Palin: "I Feel Good About Myself"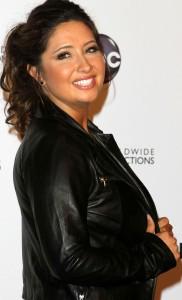 Now that Bristol Palin's made it to the finals of Dancing With The Stars with partner Mark Ballas, she's noticed her figure has changed.
"I'm definitely happy with my legs," the hoofer, 20, tells me. "I know I've got a lot of work to do, but I'm getting in shape and I'm having a good time out there."
What's her fitness goal?
"Just to tone up and feel good about myself."
Mark explains their winning strategy.
Article continues below advertisement
"I can read her when she's had too much of it, and then we take a break," he tells me. "We work well together. We don't fight or have any of that. We play around with it, and when we need to get to take a break, we take a break."
Mom Sarah Palin is pleased with Bristol's progress.
"She's excited that I'm on it, and I'm doing so good."
As for her one-year-old son Tripp?
"I spin around in the hallways with him," she says. "The whole time I sit with him, I'm holding him."
Bristol doesn't feel bad about taking time away from her little boy to appear on the reality competition.
"I've been a working mom since he was born," Bristol says. "Millions of moms work and have kids at the same time, and I'm still a good mom."
Catch Bristol on Dancing With The Stars at 8/7c.