NEWS
Bristol Palin Swears Off Dating, Baby-Making?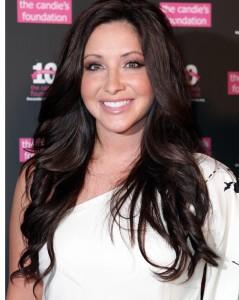 For Bristol Palin, becoming pregnant at 17 has made the usual courtship activities - like movies and dinners out - a challenge.
"There's no such thing as dating," the former Dancing With The Stars finalist, 20, tells me.
Relations with Levi Johnston, her ex-fiance and father of her son, must also be difficult.
Still, she loves 2-year-old Tripp, who will appear on her forthcoming Biography reality show on which they'll live with her DWTS pal Kyle Massey and his brother Chris.
MORE ON:
Red Carpet Confidential
Article continues below advertisement
"My son has changed my life definitely for the better. He is the joy of my life, and I couldn't be more in love with him, but I went from being a 17-year-old kid to being a mom, literally overnight, so it's definitely been a challenge."
When will she have more kids – what is the ideal?
"Not anytime soon," she says with an awkward laugh.
She applauds MTV's Teen Mom for raising awareness.
"It opens up the dialogue between parents and children about teen pregnancy," she says. "But there's no show that's going to show that's going to show how difficult it is to be a teen mom unless the cameras are running 24/7."
Bristol has a message for pregnant young women.
"Being a teen mom is going to be a tough road. It's hard, it's not glamorous."
She has supported The Candie's Foundation since 2008.
"Girls don't realize how hard it is to be a teen mom. It's so important to raise awareness."