NEWS
Bristol Palin's Custody Case Remains Public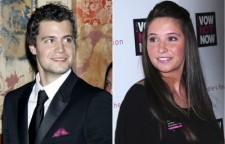 Bristol Palin had requested to keep the custody proceedings ongoing with Levi Johnston closed last week, but was denied by a Superior Court judge, the Associated Press reports. Now a full-on custody battle between Bristol and the father of 1-year-old Tripp has been revealed.
While the court considered Bristol's request to keep the proceedings closed stating no good "could result to the child by an onslaught of media," pseudonyms were used.
Article continues below advertisement
Levi said he "just wants a simple case on the merits" and urged for open court proceedings.
"I do not feel protected against Sarah Palin in a closed proceeding," Levi stated in an affidavit. "I hope that if it is open she will stay out of it. Bristol's attorney is her attorney."
Bristol filed a petition for sole custody and child support in November as well as requesting a visitation schedule for Levi saying he has made "sporadic visitation rights."
Levi is seeking shared custody and denied in court documents that he's neglected his responsibilities.
In addition, Bristol's custody petition calls Levi's recent photo shoot with Playgirl magazine "risque" and notes that Levi's mother, Sherry Johnston, should not be allowed unsupervised visits with Tripp. Sherry was sentenced last month on a guilty plea to one count of possession with intent to deliver the painkiller OxyContin and is now serving most of her three-year sentence under home confinement.
Article continues below advertisement
Bristol also suggests in her custody petition that Levi may have his own issues with substance abuse. She said he made comments about seeking "weed" on Twitter.
Levi denies making those statements saying the Twitter account "is a fraud."
Levi's attorney, Rex Butler, argued that Bristol had not shown what evidence could stigmatize the child in his motion opposing closed proceedings.
"This case presents a custody case with similar facts that attend open cases every day in the Alaska court system," Rex wrote.
Looks like the judge agreed!