NEWS
Brit to Daddy: Back Off!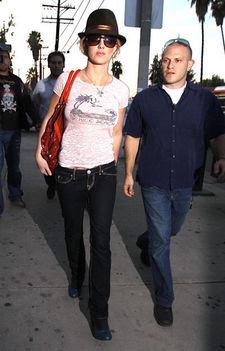 It looks like Britney Spears is still hung up on former paparazzo boyfriend Adnan Ghalib. And it's causing some unrest...ok, downright fights between herself and her conservator father, Jamie Spears.
CLICK HERE for OK!'s Ultimate Britney Gallery!
TMZ is reporting that the singer wants and has been begging to see Adnan for months but Jamie absolutely refuses.  Britney is still in touch with him but they haven't spent any time together.
Article continues below advertisement
Brit has also been complaining that Jamie won't let her go out clubbing at night or even out at night period and doesn't understand why Jamie doesn't let her take the kids out during the day.
Hmmm, let's see, Adnan, clubs, parading the kids around for paparazzi? We can understand why Jamie might not want to re-open that Pandora's Box.
But regardless, Britney is unhappy with her dad as her conservator, but according to TMZ, "she likes others even less." On Friday, she complained about Jamie in court to the commissioner. Things supposedly got so heated that the judge called her into chambers with one of the lawyers and spoke with Britney for about 45 minutes.
A source tells TMZ that Britney is acting like a 15-year-old and isn't very "contrite" about the behavior that led to the conservatorship in the first place.