NEWS
Britney Back on Set!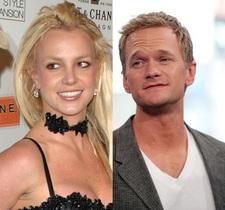 On March 24, beleagured pop star Britney Spears made her How I Met Your Mother premiere as Abby, the quirky, love struck receptionist. The episode was met with the show's highest ratings to date.
Today Britney marks her return to the show's set when she tapes another episode of the show. The episode finds Britney (Abby) and Barney (Neil Patrick Harris) still dating and hoping to use the relationship to anger their mutual nemesis, Ted. Word is Barney will even a pop a question to Abby.
Article continues below advertisement
The show's executive producer and co-creator, Craig Thomas, said, "We're all so thrilled to have Britney joining us once again. And just to head it off at the pass this time around: Yes, Mom, Britney's very nice and no, I can't get her autograph for you."
A couple weeks back, NPH said that he didn't want to use casting as a way for the show to gain attention. He quickly apologized about the statement. Britney's episode will air on May 12.