NEWS
The Britney Blame Game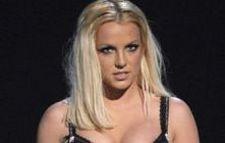 There's been quite a fallout since 's performance at Sunday's VMAs. After Britney's not-so-comeback performance, everyone is pointing fingers to who is to blame for the demise of Britney. Let's take a look at the alleged culprits in Britney's performance.
Some are blaming for not including his illusions in the performance. According to him, he had apparently put in his creative input, but it was never used. Meanwhile, word is the Palms wouldn't insure that version of the performance. , who basically knocked Britney out via her comedy routine, has received the most flak for single-handedly destroying her performance. The word is that Britney caught wind of the routine right before she hit the stage and got very upset. This led to her not being able to perform up to par. Sarah swears no one heard her routine before she hit the stage, so it would have been impossible for Britney to have known what was coming. Maybe the craziest theory out there is that MTV themselves set up the pop star to fail. With an antiquated awards show with lackluster ratings, could MTV have knowingly put the washed-up pop tart on stage knowing that millions of people would tune in to watch her fail, causing a never-ending gossip machine about the show? Even A-listers like are buying into it. He told radio station Z100: "MTV they exploited Britney in helping to end her career. When Britney was opening, near the end, I felt so bad for her. I said, 'Man, it's a dirty game. This game will chew you up and spit you out.'"
Article continues below advertisement
Now fingers are even being pointed at her manager, , of The Firm, who is also partly responsible for 's album debacle earlier this year.
Or, should the blame be put on Britney? Word is she was out partying until 8 a.m. with DJ Ruckus and producer Dallas Austin at Revolution. That means she only had 10 hours between her VMA performance and her night of partying to rest up and practice before the big show. According to a source, "She was so drunk, her assistant was forcing her to drink water and pineapple juice to try to avoid a hangover," the source told OK!
When OK! caught up with in Vegas, she, too, was disappointed with Britney's performance. "She looked like she was rehearsing it. When I was walking down the red carpet, I was telling everybody that I was looking forward to (seeing) Britney. I was like, Britney! Britney! Britney!"
As for that outfit? Well it's getting a lot of criticism as well. There was more to it, including a corset, but according to reports Britney didn't think that was sexy enough.