NEWS
Britney Dancing Her Way Back to Normalcy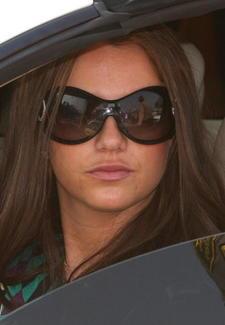 For the second night in a row, Britney Spears is hard at work on getting her career back on track. Around 3:30 p.m. PT on Saturday, the superstar arrived at North Hollywood's Millennium Dance Studios — her favorite place to rehearse her dance moves. And according to some who have seen her these last couple days, things appear to be looking up for the singer.
"Her focus and clarity are noticeable," says one fortunate witness who had the chance to look on as Brit worked on her routine for her upcoming video. "Almost like the old Britney we've known and loved."
Article continues below advertisement
It looks like this renewed focus on work might be helping to ease the tension between the pop star and her father, Jamie Spears. The two have been at odds since her Jan. 31 hospitalization and the subsequent court order granting Jamie conservatorship over the singer's financial and medical matters.
But it was a different story Saturday night when, around 6 p.m., Brit's dad arrived at Millennium to watch his daughter rehearse before they headed back home together. "Before Jamie got there, she seemed to be getting anxious," one witness tells OK!. "And then he arrived and her mood changed."
During a brief Friday afternoon shopping spree, Britney picked up a whole wardrobe of dance clothes at Victoria's Secret. And one insider tells OK!, "She's planning to dance almost every day."
Days before her most recent hospitalization, Brit had begun to work on this current routine — for her single "Hot as Ice" — which will feature one of the singer's famous chair numbers, not unlike the one in the video for her hit "Stronger."