NEWS
Britney Fans Get Engaged On Stage!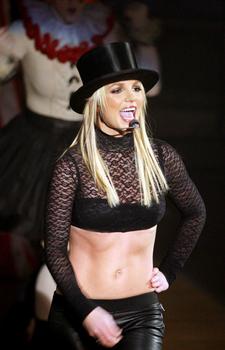 Talk about finding a guy who listens: Britney Spears fan Robert knew his girlfriend Zoyla wanted her wedding "to be like a circus with a ringleader, acrobats and magic tricks," so he tells BritneySpears.com he wanted to propose to her during her L.A. show on April 16, and bam! Done.
The Brit fan says he contacted her manager, Adam, who helped him set the whole thing up.
"I sent him a message on Tuesday telling him about my plan," Robert tells her official site. "He replied on Wednesday, but I hadn't read it until Thursday at noon. I replied but didn't think he would get in touch, since it was only 8 hours to the show. I was out with a friend having lunch when at 4:30 p.m. my cell phone rang; it was Adam. He told me he thought it was a great idea and wanted to do it. I had 2 hours to get everything done; ask her parents for permission, get her grandmothers ring, think about what to say and get us to the venue."
Article continues below advertisement
Robert told her their tickets had been upgraded to explain why they were in the VIP section. When the time came, he simply asked Zoyla if she trusted him, and took her up onstage after the Pussycat Dolls performed.
"Once I was up there, I asked everybody to listen up. My first line was interrupted by the crowd's screaming, which was overwhelming and gave me a lot of energy and confidence," he says. "By this time my fiancée was in tears and shaking. I went down on my knee and asked her if she would marry me, she said yes, we kissed and I put on her ring."
Aww!
As for their wedding plans, the couple is definitely sticking to their theme.
"The plan is to save up enough money to have our own little circus for our friends and families just like my fiancée has always wanted it," explains Robert.
Who says chivalry is dead?
MORE BRIT CIRCUS PICS: