NEWS
Britney Fans Shear for Spears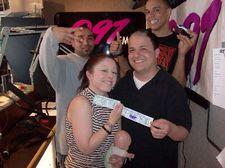 So you think you're a Britney Spears fan, eh? But really, how far – or short – would you go to win free tickets to one of her shows on the Circus tour?
Well Austin and Michelle of Visalia, Calif. nabbed their freebies to the April 16 L.A. show by shaving their heads in the "Shears for Spears" radio contest on their local station, Q97, and now they're on her official site as well.
The couple only shaved a section of their locks off, which makes us wonder if they'll complete the pre-conservator Brit look later, just to even things out.
Article continues below advertisement
Next up: Swing Your Umbrella At The Paparazzi Contest.
PICS FROM BRIT'S TOUR: