NEWS
Britney Finds Calm in Cabo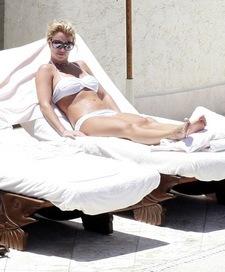 Splashing in a pool and dancing with one of her bodyguards, Britney Spears looked happier and healthier than she has in years as she showed the world that she has her killer bikini body back.
The occasion was a weekend getaway vacation to Los Cabos, Mexico, organized by Palms Casino owner and good family friend George Maloof, who intended to help Britney relax after finalizing her hard-fought custody battle against her ex-husband Kevin Federline.
Article continues below advertisement
Britney, 26, lost that war. On July 25, Los Angeles County Superior Court Commissioner Scott Gordon signed off on an agreement giving Kevin, 30, sole legal and physical custody of their sons, Jayden James, 22 months, and Sean Preston, who turns 3 on Sept. 14.
Britney is allowed supervised visitation three times a week, including one overnight. Still, just having the custody battle over was a relief for Britney, whose focus now is staying fit (she eats five small protein-packed meals a day and works out rigorously), getting her career back on track and, most important, being a great mom to her little boys.
"Britney had an overnight visit with Jayden and Preston before leaving for Mexico," a source tells OK!. "They had just been picked up to go back to Kevin's on Saturday morning when she left for the airport. Britney was in great spirits when she got on the plane."
For the complete story on Brit's trip to Cabo, pick up the new OK! — on newsstands everywhere Thursday!