NEWS
Britney Goes Live on the Radio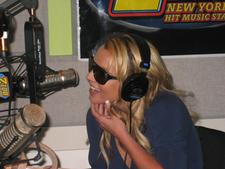 Britney Spears has descended upon NYC and is already hitting all the big stops, including a visit to radio station Z100 to chat live on the air about her new album, Circus.
"I've been working on this album for six months or so," she tells Z100's JJ.
The Britster seemed calm, cool and collected wearing a sweater and sunglesses as she added her thoughts on her new song, "Womanizer," which dropped last week.
Article continues below advertisement
"It's a really cool song," she says of the single. "I like the fact that it's so empowering for girls, because it's basically saying, 'We know what you're up to.' It's about guys cheating on other girls and stuff and it's kind of like a girl anthem."
Britney says she was suprised that for all the times she's been nominated, that she finally won a VMA for her "Piece of Me" video.
"It's a cool video, but I think by far, that I've done videos that are way better, so I was really shocked that I got the award." But this year's success snagging three Moonmen could be just the start for Britney, who says she's excited for the future of her videos.
"It was just inspiring though, because now going forward with the videos I'm doing now, I can really go there and do something crazy and see what happens."
The comeback queen arrived in the Big Apple yesterday, and she's set to take in the sights and eat her favorite NYC treat – pizza.
"I miss it here so much, I love it!" she gushes about the city. "It's kind of bittersweet coming here because I used to live here for two years, so when I come back it's like, man, I wish I had my apartment here still."
Brit also revealed some exciting news for next year – she'll be going on tour next year, "probably around the world."