NEWS
Britney & Heidi's "Dramatic" Duet?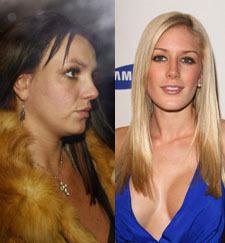 Recently, Heidi Montag told OK! she would be back "with a vengeance" after the video for her song "Higher" became an instant Internet dud, and she sure wasn't kidding. The reality villainness has apparently teamed up with none other than Britney Spears on a new track.
"Dramatic," an up-tempo club number featuring Brit's signature breathy vocals, premiered on Ryan Seacrest's radio show 102.7 KIIS FM in L.A. Monday morning.
Article continues below advertisement
CLICK HERE to listen!
Blogger Perez Hilton is alleging that Heidi's music producers got their hands on an old, unreleased demo recording of Brit and that the pop superstar is completely unaware of any collaboration. Perez's source claims the track was leaked "because they knew they'd get more press this way."
Check back for details as this story develops.